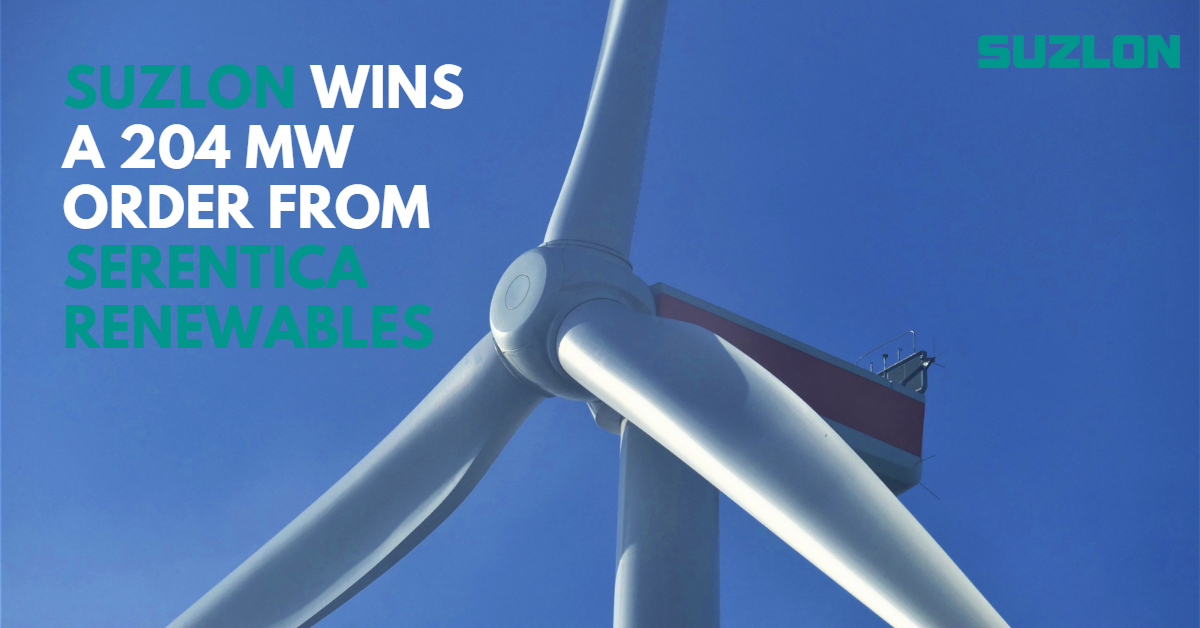 Suzlon Group announced that it has bagged a significantly large order for its 3 MW series of wind turbines from Serentica Renewables – a decarbonization platform that seeks to accelerate the energy transition for energy-intensive industries. Suzlon will install 68 wind turbine generators (WTGs) with a Hybrid Lattice Tubular (HLT) tower and a rated capacity of 3 MW each for Serentica's 204 MW wind power project coming up at Koppal in Karnataka. The project is expected to commission by early 2024.
This is the fifth order for the Suzlon 3 MW series in less than a month and as part of the agreement, Suzlon will supply the wind turbines (equipment supply) and execute the project including erection and commissioning. Suzlon will also provide comprehensive operation and maintenance services post commissioning.
Girish Tanti, Vice Chairman, Suzlon Group, said, "We are delighted to partner with corporate India as it ramps up its energy transition journey aided by a highly conducive policy environment. This order from industrial decarbonisation player, Serentica Renewables is a testament of India Inc's commitment to our nation's net-zero ambitions. The Suzlon 3 MW series is the next stage evolution of our proven technology, customized for the Indian wind regime. This technology platform will play a critical role in accelerating the pace of wind energy installations in India to power the sustainable growth of the country. Suzlon remains committed to an 'Aatmanirbhar Bharat' and building a better world for our future generations."
Pratik Agarwal, Director, Serentica Renewables, said: "This partnership with Suzlon for our renewable energy project in Karnataka represents a milestone in our industrial decarbonisation journey. Clean energy generated by this wind park will play a massive role in providing reliable and quality green power to our industrial customers, while contributing greatly to India's energy transition goal of 500GW by 2030."
JP Chalasani, Chief Executive Officer, Suzlon Group,said, "We are happy to announce our first order from Serentica Renewables. This order demonstrates the trust that our customers have not just in Suzlon and its expertise but also in our 3 MW series of products. This is a significant order for us and the fact that the electricity generated will be used to power India's industrial powerhouses makes it even more special. Suzlon is committed to serve Indian industries through green renewable power to catalyse the nation's economic growth while fulfilling our net-zero targets."
About Serentica Renewables
Established in 2022, Serentica Renewables (India) is a decarbonization platform that looks to provide round-the-clock clean energy solutions enabling the transition of large-scale, energy-intensive industries to clean energy. The company is focused on industrial decarbonization, by making renewables the primary source of energy for the commercial and industrial segment which consumes more than 50% of the electricity generated in India. Serentica aims to provide assured renewable energy through a combination of solar, wind, energy storage and balancing solutions.
Read More: Suzlon secures a 69+ MW order from Nordic Energy, Fourth order of 3 MW in less than a Month