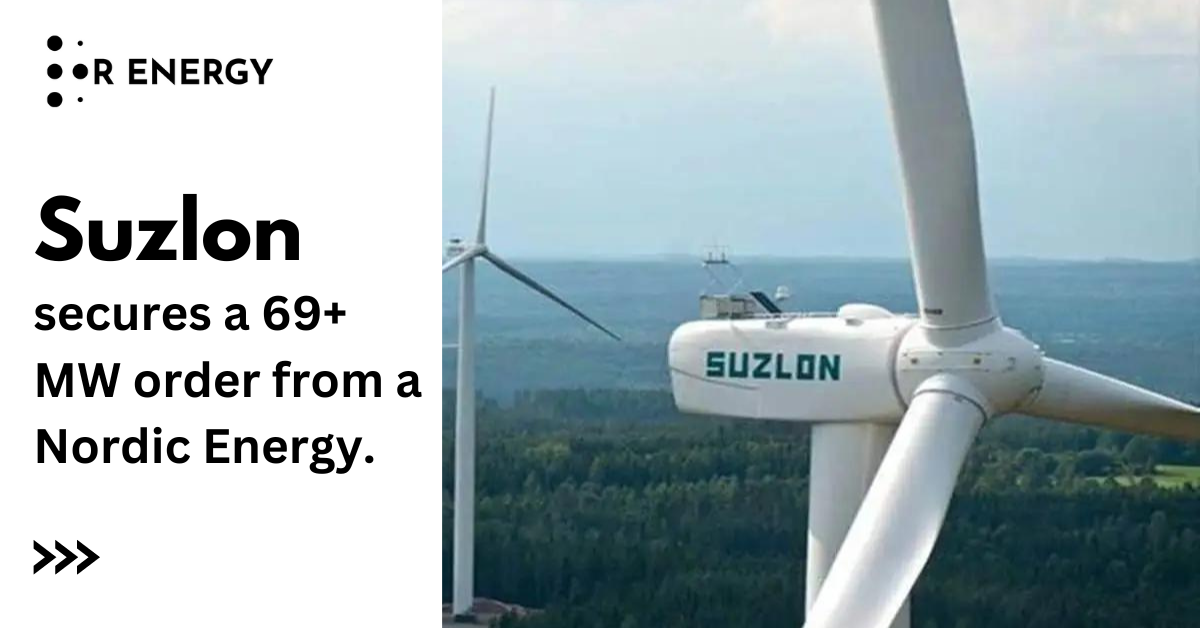 Suzlon group secured a 69 MW wind energy project from the Indian subsidiary of Nordic Energy Company. This order marks the fourth within a month for Suzlon's new 3 MW series. Under the agreement, Suzlon will install 23 wind turbine generators (WTGs) with a Hybrid Lattice Tubular (HLT) tower, each with a rated capacity of 3 MW. The project, located in Karnataka, is expected to be commissioned in 2024. The S144-140m model from the new 3 MW series has been chosen for this project, demonstrating the confidence placed in Suzlon's technology and expertise. In addition to supplying the wind turbines and overseeing project supervision and commissioning, Suzlon will also provide post-commissioning operations and maintenance services.
The S144 wind turbine generator is one of the largest in India, extendable up to 3.15 MW, depending on site wind conditions, available at a hub height of 140 meters going up to 160 meters by its serial launch. At 160 meters hub height the S144 will also be India's tallest wind turbine. Suzlon's S144 fleet will deliver a remarkable 40-43% higher generation over Suzlon's current model, the S120 – 2.1 MW wind turbine, showcasing its ability to optimize wind resources at higher altitudes and make low-wind sites viable.
JP Chalasani, Chief Executive Officer, Suzlon Group, said, "At Suzlon, we take great pride that a leading Nordic Energy Company with a proven global track record in renewable energy has placed their trust in Suzlon for their first wind energy project outside of Europe,
This order is a testament to the quality and reliability of our technology and service solutions. Targeting the Commercial & Industrial (C&I) consumer segment, this order will help in expanding the reach of renewable energy to more Indian industries, driving them toward their net-zero targets. Suzlon is committed to leading India's renewable energy vision by providing solutions that combine proven technology with world-class service offerings. Together with our customers and our valued partners, we will continue to push the boundaries of what is possible and drive meaningful progress towards a cleaner, greener, and more prosperous tomorrow for all."
Furthermore, As a leader in the renewable energy sector, Suzlon's 3 MW series of wind turbines is a testament to the company's dedication to delivering sustainable and cost-effective renewable energy solutions for the future. We are confident that the 3 MW – S144 technology will contribute significantly to the country's renewable energy and net-zero targets.
Read More: Suzlon Energy Bags Order of 99 MW from Vibrant Energy