Solar Inverter 
An inverter is a crucial component of every solar system. This converts solar array-generated DC power to AC power as its primary function. It allows us to monitor the solar PV generation, for installing a solar PV system at home, then we need to understand the solar inverter working, types, and the rating required as per our home Load (installed appliances). Solar panel-generated direct current (DC) energy is converted by solar inverters into usable alternating current (AC) energy. This is done by the charge controller which works on two principles MPPT and PWM.
How Does It Work 
Pulse Width Modulation is known as PWM. An electrical switch between batteries can be used to describe PWM charge control devices. Activating and deactivating the switch is quick. So that the batteries may be charged, the desired voltage can be obtained. With each battery charge, the charge current will gradually decrease.
Max Power Point Tracking is referred to as MPPT. A method of monitoring and controlling the flow of energy from a solar panel to batteries is called MPPT. In response to the weather, solar panels produce varying outputs. To maximize charge efficiency, MPPT charge control devices can match the voltage of the battery and the solar panel. By balancing voltage and current in these systems in accordance with the P = V x A equation, the full power of solar panels can be utilized. In order to safeguard the voltage, for instance, when it is overcast outside, less current is drawn from the panels. It can draw more current while it's sunny outside. The high efficiency of the solar panel ensures good performance and can adhere to more load as compared to other low-efficiency inverters. MPPT solar inverter is costlier than PWM solar inverter as it generates 30% more current than the PWM inverter.
Types of Inverters and their Connector 
The most crucial component of the solar power system, after the panels themselves, is the inverter. There are many PV Inverters topologies used worldwide for industrial and home applications.
| | | |
| --- | --- | --- |
| S.No | Type of Solar Inverter | Connection |
| 1 | OFF grid | Connected to battery and solar panel |
| 2 | On grid | Connected to solar panel and main power line |
| 3 | Hybrid | Connected to battery, solar panel and main power lines |
| 4 | Micro | Solar panel itself has a small inverter attached to itself |
| 5 | Lithium | Connected to Lithium battery and solar panel |
| 6 | Batteryless | Connected to solar panel |
| 7 | Transformerless (on grid) | Connected to solar panel and main power line |
Required 
Power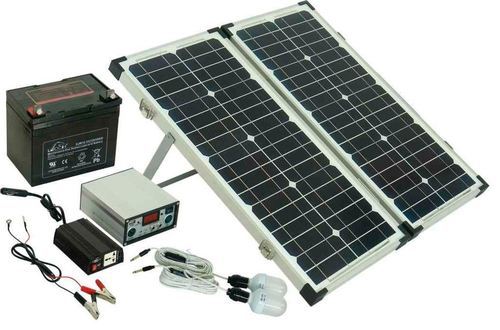 How much VA inverter is required is calculated as per the load.
| | | |
| --- | --- | --- |
| S.No | Appliances | Power (Watts) |
| 1 | 3 Fans* 70 | 210 |
| 2 | 5 bulbs*15 | 75 |
| 3 | 1 Water purifier*25 | 25 |
| 4 | 2 Tubelight*40 | 80 |
| 5 | 1 LED TV*100 | 100 |
| | Total | 700 |
When the appliances start, they require extra current while starting, this is called jerk load, which is added to the total load by multiplying 1.5 by the total load i.e. 700*1.5 = 1050 watts.
Conversion of watts to VA -: VA =
For example, if the efficiency of the inverter is 80% (0.08) then for the above load, total VA will be  = 1312.5 VA.So the inverter of more than 1312.5 VA should be purchased for the above load.
Thing to keep in Mind while choosing a Solar Inverter 
Other important aspects that should be kept in mind while choosing a solar inverter are-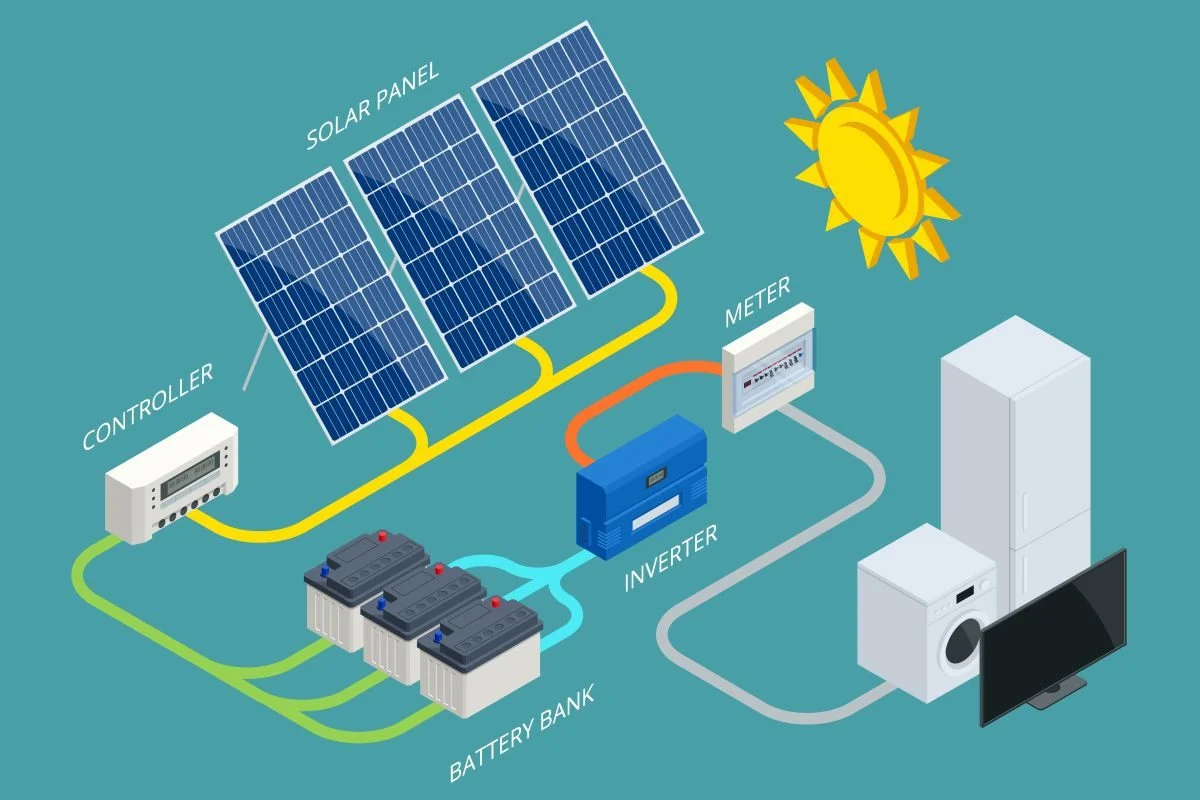 Priority setting gives maximum utilization of solar panels. This setting allows you to choose whether the battery will be charged through solar panels or through AC mains.
Normal mode or UPS mode inverter is available in the market, normal mode inverter has a little higher efficiency than UPS (uninterrupted power supply) inverter but UPS inverter will not let the power appliances shut down after the power cut.
Square wave technology should be avoided as sensitive appliances can be hampered, whereas sine wave technology inverters are suggested strongly for home appliances.
Solar inverter voltage ratings and battery- 12V – 1 battery, 24V- 2 Battery, 36V- 3battery, 48V- 4 battery.
Features of the solar inverter such as display, protection, app connectivity, and warranty. increases the price accordingly.
Read More:- Essential Guide to Solar Inverters in India: Types, Market Trends, and Top Manufacturers