Largest Commercial Rooftop solar installed in Florida's Badia Spices Manufacturing Facility: 3.24 MW
Introduction
Florida is seeing a rise in the number of solar power installations due to increased commercial adoption. This is a result of more well-known enterprises discovering the benefits of installing solar panel arrays on parking garage roofs and other surfaces.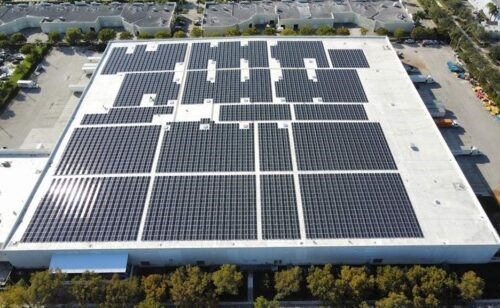 The Cape Canaveral Community Center in Cape Canaveral, Florida, finished building a new structure with a rooftop solar array earlier this month. The 72-panel, 48 kW array was constructed by ESA and is the first rooftop solar project in the city.
But recently Florida got its largest commercial solar project installed in a rooftop of a manufacturing facility of 300,000 sq. ft.
Who installed the Largest Commercial Solar Plant?
The largest privately owned solar project was made possible with the installation of a rooftop solar system by solar contractor SALT Energy in a Florida manufacturing facility owned by Badia Spices.
The Washington, DC-based Salt Service subsidiary SALT Energy specializes in hurricane-tested solar arrays in Florida and the Caribbean. On this installation, the business employed solar panels produced by San Jose, California-based SunPower, and flat roof racks made by PanelClaw. Instead of penetrating roofing screws, SALT Energy employed roof anchors made by Anchor Products in Haltom City, Texas, which fasten to a fully adhered roofing system by hot air welding.
The renowned Spanish culinary business Badia Spices was founded in 1967 by José Badia. More than 70 nations around the world receive products from Badia, which produces, packages, and distributes spices, seasoning blends, marinades, sauces, teas, and other products.
The company has switched to solar power at its second site. SALT Energy's 529-kW rooftop solar array, which was installed at Badia Spices' 100,000-square-foot factory in Doral, Florida, went into operation in 2019. On their beachfront property in Miami's Coconut Grove, Mr. Badia and his wife Nancy also hired SALT to install one of the biggest residential solar arrays in Florida.
Why does this Largest Solar Plant matter?
Over 80% of Badia Spices' electricity use will be offset by this solar project, which will also lessen the company's carbon footprint. The switch to solar energy is also consistent with Badia's dedication to developing environmentally friendly and sustainable procedures to improve their supply chain. A significant step in Florida's shift to clean and sustainable energy is also being made with the development of this solar plant. In the next five years, Florida is expected to rank among the top five solar states in the United States, according to the Solar Energy Industries Association (SEIA). This project's successful installation by SALT Energy also demonstrates the firm's proficiency and experience in completing challenging solar projects.
Specifications of the solar plant
| | |
| --- | --- |
| Capacity | 3.24 Million Watt |
| Installation area | 300,000-sq.-ft. |
| Inverters | 40 |
| Solar panels | 7200 |
| Electricity offset | 80% |
Future steps
The project is a component of a broader movement toward the adoption of solar technology and sustainable energy. Florida is the perfect state for solar energy production because it receives a lot of sunlight. A study by the Environment Florida Research and Policy Center found that Florida has the capacity to create 105 times more solar energy than it does at the moment. As a result, the state has a lot of potential for new solar projects. The implementation of this initiative can inspire additional companies in Florida to switch to renewable and sustainable energy sources. This project is anticipated to result in an annual reduction of 2,744 metric tonnes in carbon dioxide emissions. Additionally, because the business is collaborating with the neighborhood school system to develop solar energy and engineering programs, the solar array will offer educational opportunities for nearby students. The dedication of Badia Spices to sustainability and environmentally sound methods may also persuade other businesses to adopt similar actions and follow suit.
Read More:- IOC unveiled "Surya Nutan" Solar Cooktop for Indoor Cooking