Solar Power Plants Around the World
The world is undergoing a global energy transition. Countries are scrambling to build their renewable energy capacity to reduce their dependence on conventional power sources such as coal, oil, and natural gas, which are unpredictable and incredibly unsustainable. According to an IEA report-the world's renewable capacity is expected to increase by over 8% by 2024. What's more, solar power will account for 60% of this increase.
Solar power is continuing to enhance its reputation as one of the fastest-growing renewable energy sources, with a number of the largest plants coming online in recent years. As per the world aims to reduce its reliance on fossil fuels amid the energy transition, several major economies are now looking to ramp up their share in the technology. Over the last few years, solar plant deployment has escalated due to several notable reasons, including soaring energy requirements, advancing technology, lower cost of investment, availability of considerable incentives, climate targets, etc. Eventually, global nations have observed more widespread development of solar plants. The globe has various vast and capacious solar plants that yield enormous energy output and support sustainable development.
Currently, China is leading the world in solar energy generation with an installed capacity of over 300 gigawatts. However, many nations have set ambitious solar targets for the future and are building large-scale power plants to fulfill their energy needs.
 Top 7 Solar Plants Around the World
Bhadla Solar Park, India
Location: Rajasthan, India
Installed Capacity: 2245 MW
Bhadla Solar Park is the largest solar farm in the world. The facility, spanning over an area of 14000 acres, is located in the Jodhpur district of Rajasthan. The solar farm has a capacity of 2.25 GW and required an estimated investment of over 1.3 billion dollars.
Commissioned in 2017, the massive solar project contains over 10 million solar panels. It was developed in four phases under the Ministry of New & Renewable Energy (MNRE) scheme, in line with the Rajasthan Solar Energy Policy, 2011. The plant harnesses the dry heat of India's desert state of Rajasthan to produce clean renewable energy.
Huanghe Hydropower Hainan Solar Park- China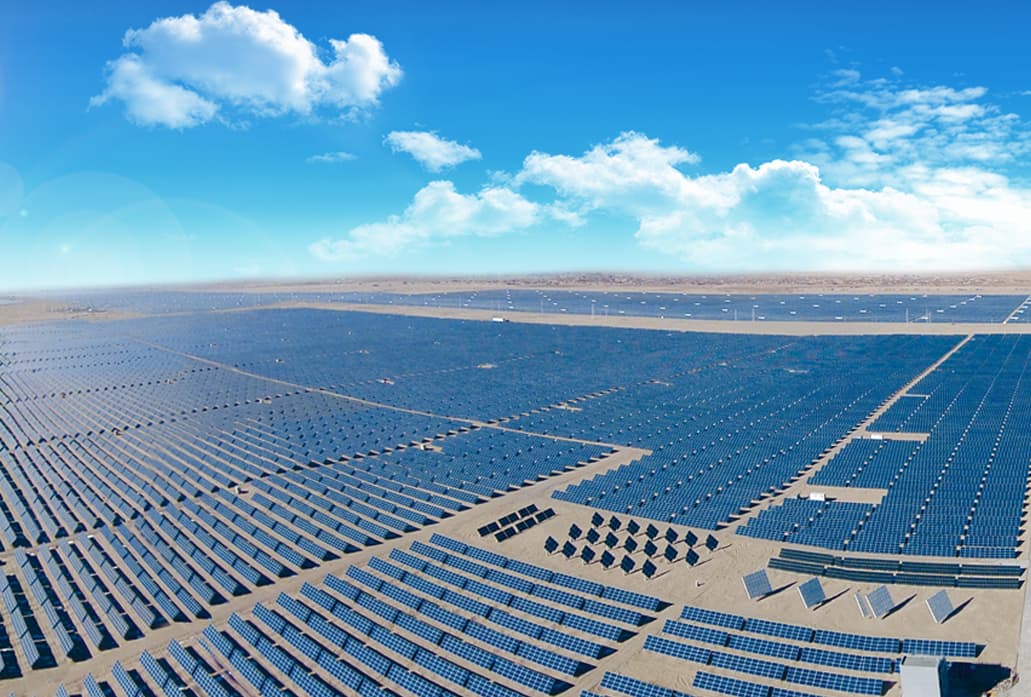 Location: Qinghai province, China
Installed Capacity: 2200 MW
The Huanghe Hydropower Hainan Solar Park is located in the remote Qinghai province of China. It is the largest solar facility in the country, with an installed solar capacity of 2.2 GW. The facility was created by Huanghe Hydropower Development- a state-owned power generation company and required an investment of approximately 2.3 billion dollars. The massive plant boasts a storage capacity of 202.8 megawatts.
Developed in 5 phases, the plant is spread over an area of 564 acres and became operational in 2020. Currently, there are plans to expand the solar capacity of the park to 10 GW.
Pavagada Solar Park, India
Location: Karnataka, India
Installed Capacity: 2050 MW
Pavagada Solar Plant is the second biggest solar power plant in India. It is also the third biggest solar plant in world, with a 2050 MW capacity. Popularly, it is also called the Shakti Sthala Solar Power Project.
The Pavagada Solar Park is stretched over an area of more than 13,000 acres of land. Through this solar plant, Karnataka aims to fulfil the objectives of its solar policy of 2014-2021, which envisages a shift from conventional energy resources to renewable resources.
Benban Solar Park, Egypt
Location: Aswan Governorate, Egypt
Installed Capacity: 1650 MW
Benban solar park is located in Benban village of Aswan governorate, Egypt, and is the largest solar project in Africa. Equipped with 41 solar power plants, the massive complex boasts a solar production capacity of 1.6 GW.
The development of the project was overseen by the state-owned New and Renewable Authority (NREA) and is in line with the Sustainable Energy Strategy 2035, announced by the Egyptian government. The 9000 acres facility was connected to Egypt's National Grid in 2019, and currently powers over 4,20,000 households.
Tengger Desert Solar Park, China
Location: Ningxia, China
Installed Capacity: 1547 MW
The fifth-largest solar power plant in the world is in Ningxia, China. The facility boasts a capacity of 1547 MW and covers 1200 km of the Tengger desert.
Also referred to as the Great Wall of Solar, the farm is owned by the China National Grid and Zhongwei Power Supply Company. It became operational in 2017 and now fuels more than 6,00,000 homes.
Noor Abu Dhabi, United Arab Emirates
Location: Abu Dhabi
Installed Capacity: 1177 MW
Noor Abu Dhabi is another biggest solar plant in world, with situated in the United Arab Emirates. It initiated commercial functioning in the month of June 2019. This solar energy plant sprawls across eight sq km of land and embraces 3.2 million solar panels.
Remarkably, this plant will slash around 1 million metric tons of carbon emissions, which is equal to removing around 2 lakh cars from the roads.
Kurnool Ultra Mega Solar Park, India
Location: Kurnool, Andhra Pradesh
Installed Capacity: 1000 MW
Kurnool Ultra Mega Solar Park is a 1,000 MW capacity solar plant spread across 24 sq km in the Kurnool District of Andhra Pradesh, India.
It has acquired funds from the Central government, State governments, and notable solar developers. The sum of funds invested in constructing this solar power plant is around USD 980 million.
Conclusion
Various countries across the world are forging ahead for sustainable & green energy generation. Many nations are putting efforts to meet their respective renewable energy goals straight away by setting up vast solar power projects. The solar energy move worldwide is supported by the sweeping biggest solar plant that contributes to a greener future.
Read More:- Top Five Largest Solar Power Plants in India 2023