Best Solar Inverter in India 2023
Inverters are a blessing in a country like India, where power cuts are frequent, especially in certain rural pockets. The most effective, cost-effective, and eco-friendly way of conserving energy is by using solar energy. Those days are gone when work and study had been interrupted by the power cuts and had to wait till the light came.  The new-age solar inverter helps to offer a renewable source of power. Solar inverters are more durable and also available at an affordable price.
In this article, we help you navigate your way through the best solar inverters in India 2023
Luminous Solar Inverter NXG1400 12V Solar Home UPS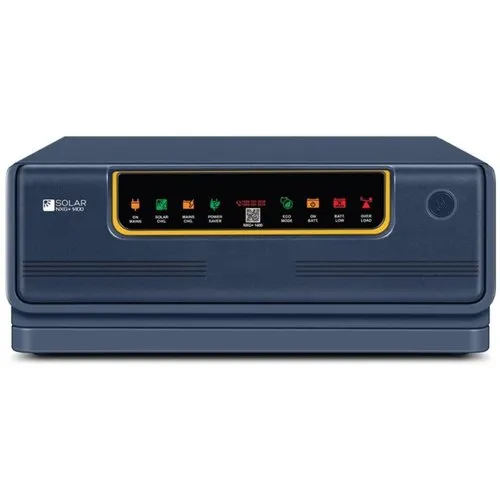 Luminous is one of the leading inverter brands in India, buy this Solar inverter that comes with Pure Sine Wave solar hybrid with 85% off efficiency and has an inbuilt PWM charge controller. It has been compatible with 2 solar batteries of 150 Ah and has the option of fast charging through I charge technology. This Luminous solar inverter is accompanied by the ISOT, or Intelligent Solar Optimization Technique. This technology facilitates fast charging, and also comes with dual modes. A faster output of charge is ensured with the I-Charge Technology. This automatically translates to the fact that you can charge the batteries really fast, and keep them reserved for long power cut. The dual modes also play a crucial role in helping the solar inverter provide you with good performance. The two modes are – ECO and UPS mode. You can run all your normal and low-energy appliances like lights, fans, etc., using the ECO modes. The energy consumption while using this mode is quite less. With the UPS mode, you can operate heavy appliances like computers, washing machines, refrigerators, and so on. Luminous NXG 1850 Pure Sine Wave Inverter comes with a price of ₹ 12,299 in India.
V-Guard Smart Pro 1200 S Solar Inverter 
It is a pure sine wave output inverter that is perfect for loads of sophisticated electronic equipment. This V-guard Solar inverter easily syncs with your smartphones and helps to reduce the usage of electricity for the power grid by translating to higher power savings. V-guard smart pro supports LED TVs, computers, LED bulbs, inverter refrigerators, speakers, mixers and grinders, kitchen chimneys, and all other kinds of appliances. With the Application mode, the solar inverter can support a high load of 100 W – which is required for appliances like coffee makers, toasters, and irons. The application on your smartphone also reminds you when it is time to top up the distilled water in the battery, based on the consumption pattern of the inverter. This ensures a longer life span for the battery, and also a consistent supply of energy at all times without failure. You can even track the battery health through the smart app, and plan the load usage accordingly. V-Guard SMART PRO 1200 S Pure Sine Wave Inverter comes with a price of ₹ 9,064 in India.
Luminous Solar hybrid 1100/12V Home UPS
The Luminous Solar Hybrid 1100/12V Home UPS has been specially designed to be used for residential purposes. The rated AC power of the inverter is 700 VA and 12 V, whereas the operating voltage ranges from 100-290 V. There is no battery included in the device, and you can use any tubular battery with 150 ah capacity each. You can also take two 200 ah batteries and connect that simultaneously to the inverter. This is a hybrid model and hence, it can use any kind of battery. However, it is best to go for tubular batteries rather than regular ones – even if you do not use solar panels to charge them regularly. The maximum power output of the inverter for both AC and DC systems is 850 VA – which is quite high. Even then, there have been complaints from customers earlier about the absence of the 12 volts DC output in the inverter. Luminous Solar hybrid 1100/12V Home UPS inverter  comes with a price of ₹6,780.00 in India.
MICROTEK Digital Solar UPS M-SUN-1135 VA 12V
It can be termed as one of the best hybrid solar inverters because of the plethora of features it comes with, and how it combines the best of two technologies resulting in premium performance. It also comes at a very reasonable and affordable price, which makes the solar inverter ideal for home use. It provides both AC and DC power output, with a power capacity of 1135 VA accompanied by a DC output of 12 V. Both tubular, as well as lead-acid batteries can be used in this inverter, and the power consumption can be as low as 35 ah. Experts suggest that you go for 150 ah batteries to stay on the safe side, as it gives you a standard rate of backup, unlike the very low or very high powered batteries. Place the batteries parallelly to enable fast charge and discharge them independently when needed. MICROTEK Digital Solar UPS M-SUN-1135 VA 12V Home UPS comes with a price of ₹ 6,595 in India.
Luminous NXG1100 + LPTT12150H 150Ah 1No + 165Watts Solar Panel 2No (Poly)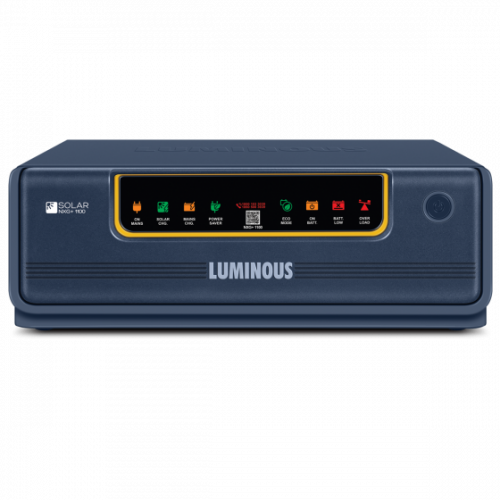 Luminous Solar inverters have proved repeatedly that it is a brand par excellence, and also one that provides the best solar inverter price in India. The Luminous NXG1100 solar inverter comes along with a tall tubular battery (LPTT12150H) and two 165 watts solar panels as well. The price mentioned on the product page is inclusive of all these products. They are hybrid inverter has a power output of 850 V, and a DC output of 12 V. The battery is a tall tubular one, with a capacity of 150 aH and it is a C10 battery. It is an advantage that you are getting such a package because otherwise, you would have had to search for and buy a battery separately – which might have been a hassle. There is a huge 5-year warranty on this particular battery. The two solar panels have a power outage of 165 watts each, and both are poly-crystalline panels that have a warranty of 25 years on them. Since this is a hybrid solar inverter, it consumes power both from the solar panels and the grid mains. This way, a lot of excess power is saved (approximately 1.5-3 units). Luminous NXG1100 + LPTT12150H 150Ah 1No + 165Watts Solar Panel 2No (Poly) comes with a price of ₹14250 in India.
Exide Technologies 12V 40Amps Solar Charge Controller with LCD (Multicolour)
It uses direct solar power during the day with the help of the PCU technology and saves up on the charged power for the night. The power consumption levels of this solar inverter are very less, making it an ideal machine for saving money and the environment. With more than 95% efficiency, the Exide solar inverter ranks very high in performance. You can use panels higher than 1000 watts to charge the solar inverter, and it will run smoothly. Inside the solar inverter, you will find an internal charge regulator that is fully controlled. While it is a truly efficient solar inverter, it makes quite a lot of noise when it is on. This can cause disturbance to people in the house doing important work or even resting. While Exide provides a great warranty for the solar panels they sell, there is no warranty provided with the inverters – and that makes it a huge disadvantage to buying an Exide solar inverter. Exide Technologies 12V 40Amps Solar Charge Controller with LCD (Multicolour) comes with a price of ₹ 13600in India.
Flin Energy Flinfuzion 3kva / 3kw, 24v Solar Hybrid Inverter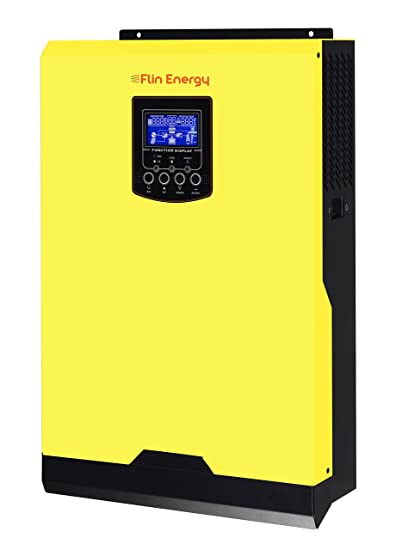 The Flin Energy Flinfuzion solar hybrid inverter is the first commercial inverter on this list of the best solar inverters in India. It can provide electrical supply to commercial buildings such as municipal facilities, oil and gas industries, large corporate offices, telecommunications, traffic controls, and so on. Since this inverter is meant for supporting such a large space, its price is quite high compared to residential solar inverters. The device will give you a massive power output of 3000 watts, with a 3kVA rating along with 24 V of DC output. This one is a pure sine wave hybrid inverter that comes with a 90-93% efficiency. It can be connected up to 4 kW of solar panels. Even though the power output is 3000 watts, the actual power used is lesser – which makes the solar inverter a more energy-efficient one. Flin Energy Flinfuzion 3kva / 3kw, 24v Solar Hybrid Inverter comes with a price of ₹ 28500 in India.
Conclusion
We hope that this comprehensive and highly descriptive article was sufficient enough to help you choose the best solar inverter in India.
In this section, we provide you with a list of some of the top solar inverters in India based on the quality, features, performance, warranty, and service of the products. These have been chosen very carefully and after sufficient research. However, to get a more holistic picture, you must do some research of your own to understand the kind of products currently available in the market, and if they meet your requirements.
Read More:- Solar Powered Calculators how does it works, Types and Advantages